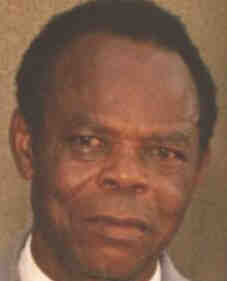 Late Elder Asuquo Ekanem was born on November 1920 to the family of Ekanem Ukpong Eton. His mother was Madam Adiaha Udosen of Ikot Ekwere, Itam in Itu Local Government Area. The young Ekanem, whose father was into merchandising business at the border villages of Itu, Nwaniba and other coastal areas within the Cross River estuary, was however left under the tutelage of his maternal parents for his upbringing.
As the second and last child of the parents, he showed early traits of a brilliant sibling and was inculcated with sound moral training while growing up to pursue theological ideas of his parents. Papa, as he was fondly called, had the early misfortune of losing both parents at the tender age which left him to face the tortuous challenges of life.
He grew up under the watchful eyes of Late Obong Ötö from Ifiayong.
After completing the mandatory elementary-standard education, young Asuquo refused to be dampened by the sad experience of an orphan but rather intensified his determination to achieve brighter prospects through the excellent record of brilliance. Late Ekanem undertook, through self help, a course at Wolsey College, London and obtained his Cambridge General Certificate within a short sped of time, in 1942. Armed with this laurel, late Elder Ekanem has the sky as his limit towards achieving greater goals. He was later awarded a scholarship to further his career which took him to London and subsequently obtained post-graduate Diploma in International Shipping Management in 1949.
After his education while in London, Elder Ekanem had a brief working experience with a German company - an oil exploration company which led to his transfer back home to Calabar. He later joined the then famous John Holt Limited and was retained in Calabar.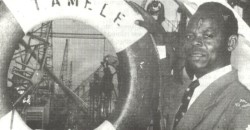 With the boom in shipping business after the second world war, culminating in the arrival of various maritime organisations, Late Elder Ekanem pitched his tent with the then Elder Dempster Lines and thus transferred his services to a foreign agency. It was at Elder Dempster Lines that his career blossomed and had a very resourceful working experience. To further enhance his talents in other spheres for the shipping industry, Late Elder Ekanem was, along with other few indigenes at that time, again sponsored by the company for another course in Book-Keeping and Accountancy to Liverpool in the United Kingdom. He continued his services with the company on his return from the U.K. where he spent the greater part of his career.
On the attainment of independence in 1960, the Nigerian economy witnessed a big boom attracting foreign investors to its shores. Consequently, the birth of Nigerian Ports Authority saw the ambitious Elder Ekanem switching over in the late sixties on secondment to help build the nucleus of the sprawling establishment as Manager in charge of Exports and Imports.
With accumulated considerable wealth of experience and covering various strata of the shipping industry, Elder A. Ekanem began his valedictory sojourn in service to the nation when he later joined the then newly established Nigerian national Shipping Line as Wharf Superintendent where he voluntarily retired in February 1984 thereby completing a meritorious national service spanning over thirty five years.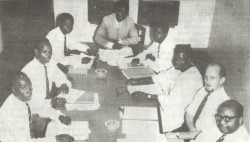 Late Elder Ekanem was exposed to early Christian life, and attribute inculcated into him by his late parents. His family witnessed Christianity through the missionaries who were then on evangelical crusade in the country.
Before their early and sad exit, his parents had embraced the Qua Iboe Church and had the young Ekanem baptised at his prime. After the sudden death of his parents and also his attainment of adulthood, he joined the Presbyterian Church of Nigeria and became the pioneer member of Esin Ufot Efut in Calabar in the sixties.
In acknowledgement of his contributions and pioneering efforts, late Elder A. Ekanem was ordained a ruling Elder on 26th August 1968. Since then, he carried out his ecclesiastical assignment with zeal and deep sense of commitment to the Glory of the Almighty. He founded the church choir and ensured the enrollment of his entire family which was gratuitously christened the "family choir".
Late Elder Ekanem took his religious obligations with all amount of seriousness and devoted his entire life to the upliftment of sanctity of Christianity. He remained steadfast in the Lord and kept Christian injunctions as his guiding philosophy in life. His strict disciplinarian measures will ever remain fresh in our minds.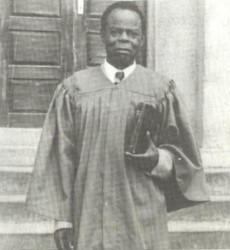 His services to the church in particular and mankind in general did not go unnoticed and garnered in the process various recognitions. He was Life Superintendent of the Church Choir, Chairman of the Church Committee, one time Parish Commissioner to the Synod of Presbyterian Church of Nigeria and several other honours.
Late Elder A. Ekanem practised his doctrinal beliefs with utmost zeal, decency, punctuality and kept faith with morning prayer schedules always in the church.
Perhaps, it is in this sphere that Ekaboy, as he was fondly called, would leave a legacy for his children and admirers alike. As a member of the legendary Man 'O' War Bat, he attended leadership and citizenship training in Camerouns.
It will also be noteworthy to mention that throughout his lifetime, he never smoked tobacco nor consumed alcohol, a rare attribute found in young men at that time. He also maintained a high moral rectitude both in his official and private endeavours. He exhibited amiable conduct of honesty and never obtained any gratification or inducement in the discharge of his various functions. The endeared him to his family and numerous friends.
In spite of the arrival of a protracted illness, late Elder Ekanem still defied the ailment to attend to his Christian callings. Papa, as he was referred to by his lovely children, however succumbed to the eternal call of the Almighty when he breathed his last in the early hours of Monday, the third day in the month of May, Nineteen Hundred and Ninety Three in the year of our Lord.
One unique features of late Elder A. Ekanem's demise would be the eventual autonomy of both Esin Ufot Efut and Efut Ekondo parishes which were under one parish. His memorial is therefore seen as a solemn bridge between the two sister parishes which is interspersed with the attainment of their various autonomies.
By his sad but inevitable departure, the whole church congregation, family and friends shall have lost a pathfinder, though in death he will continue to ever remain a source of inspirations to us all.
May the Almighty grant us the fortitude to bear the irreparable loss.
Left to mourn his exit are fourteen children seventeen grandchildren, a host of relations, friends and the church.
May God grant his gentle soul eternal rest - Amen.