Miss Magdalene Asuquo Ekanem (Nene) was born on 4th June 1965 to the family of late Elder Asuquo Ekanem and late Elder (Mrs) Mary Asuquo Ekanem. She attended Government Primary School, Atu Street, Calabar South Municipality, for her primary instructions and went for her secondary education as a pioneer student of Government Technical College, Ikot Effanga Mkpa, Calabar Municipality, but subsequently moved to Community Secondary School, Ikot Ewa, Akpabuyo Local Government Area, where she obtained her West African Examinations Council School Certificate.
Nene, as Magdalene was fondly called, recognised her talents for beautiful designs

and great cooking at an early age; and followed her instincts through by undertaking courses in fashion design and modelling. Along the way, she engaged in a number of entrepreneurial ventures, including running an eatery in Lagos for a number of years; with unfulfilled plans to operate a similar business in Calabar.
Nene's high sense of fashion inexorably led her to set up a boutique in Calabar which she managed until her totally unexpected demise at the University of Calabar Teaching Hospital around midday on Friday, 28th February 2014.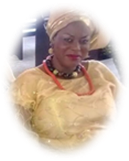 A devout Christian from birth, Nene began her Christian journey at the Esin Ufot Efut parish of the Presbyterian Church of Nigeria. On relocating to South Western Nigeria, she continued the worship of her Creator under the umbrella of Mount Zion Lighthouse Full Gospel Church Inc. Returning to Calabar, Nene cemented that new found association and joined the Sabongari Assembly where she remained an active member until her untimely departure.
Magdalene is survived by a son, Godswill, twelve siblings, numerous nieces and nephews,

and a whole host of other relations and friends. The entire family has utterly been jolted and certainly weakened by this, most unpredictable, turn of events but we take solace in the indisputable belief that Nene is resting in perfect peace; and that her wonderfully treasured qualities will not be lost an iota until we meet again in eternal glory to part no more.